Many homeowners deal with a pesky roof leak at some point or another. Roof leaks can be nerve-wracking and annoying to deal with. But did you know that you could potentially have a ceiling leak and not even know it?
Attics are one of the spaces in your home that are most vulnerable to leaks. Unfortunately, as a space that homeowners don't often spend time in, roof leaks can go undetected for months on end, causing serious water damage.
If you're looking to learn
What are the signs of a roof leak
How often you should check for a roof leak
Ways to protect against roof leaks
We've got you covered! We've done all the research to help keep your home protected from leaks and water damage. Read on to find out what the signs of a roof leak in your attic.
Why Is My Roof Leaking?
So, why do you have a leaking roof in the first place?
A leaky ceiling is usually a sign that you have a problem with your actual roof. If you notice a leaky roof, it's a good idea to contact a professional roofing contractor to inspect your roof for signs of damage. Early intervention can help prevent serious and costly repairs from water damage further down the road.
Dangers of Roof Leaks
A leaky roof may not look that serious at first glance, but it can lead to serious problems if left untreated.
Roof Collapse – The most serious problem, of course, is that an untreated roof leak can lead to roof damage so severe that it weakens the structure of your roof. In some cases, this can lead to a partial or total collapse of your roof.
Mold Growth – Mold thrives in moist environments. When moisture buildup occurs because of a leaking roof, mold growth often occurs. While many types of mold are harmless, mold is never a good sign in your home.
Damaged Personal Items – Attics often serve as storage areas in our homes, and when water leaks in, it can ruin many of the items that we keep in storage.
Fire Hazards – Because there is often wiring and other electrical components in our ceilings, leaking ceilings can pose a huge fire risk if left untreated.
7 Telling Signs of Roof Leak In Attic
Ready to make sure your home is leak-free? Here are some key signs to watch out for if you are nervous about a leaking roof.
1) Mildew Smell
As we mentioned, mold is a hazard that comes with roof damage. So, when determining if a roof leak is present in your attic, one of the first things to look out for is a musty, mildew scent that can tell you if you have an issue with water getting inside your home.
2) Water Stains
Looking for signs of water damage? Yellow or brown stains on your interior and exterior walls and ceilings clearly indicate that you are getting water where you don't want it.
3) Water Puddles
If you're finding puddles or pools of water in your attic, it's probably already clear to you that you have a problem. By the time water is pooling inside, it's imperative that you contact a roofing professional near you to come to assess the problem.
4) Shiners
If you haven't done much construction, you may not know what we mean when we tell you to "check your shiners." Shiners are a term we use in construction to refer to nails in your roof that have missed the frame. Oftentimes, if you are having problems with your roof, you might see that your shiners have frost on them. If you see this, it's a good idea to have your roof checked out.
5) Rusted Gutters
When was the last time you checked on your gutters? Gutters can be a good indicator of whether or not your roof system is working properly. If your gutters are rusted, it could be a sign that they aren't able to effectively divert water away from your roof, which means that it could be getting inside your home.
6) Damaged Shingles
Have you ever found blown-off shingles in your yard? Have you recently gone through a hailstorm and sustained some damage to your shingles? Damaged shingles often let water and ice penetrate through the various levels of roofing material on your roof, which can create a leaky roof as time goes on.
7) Ice Dams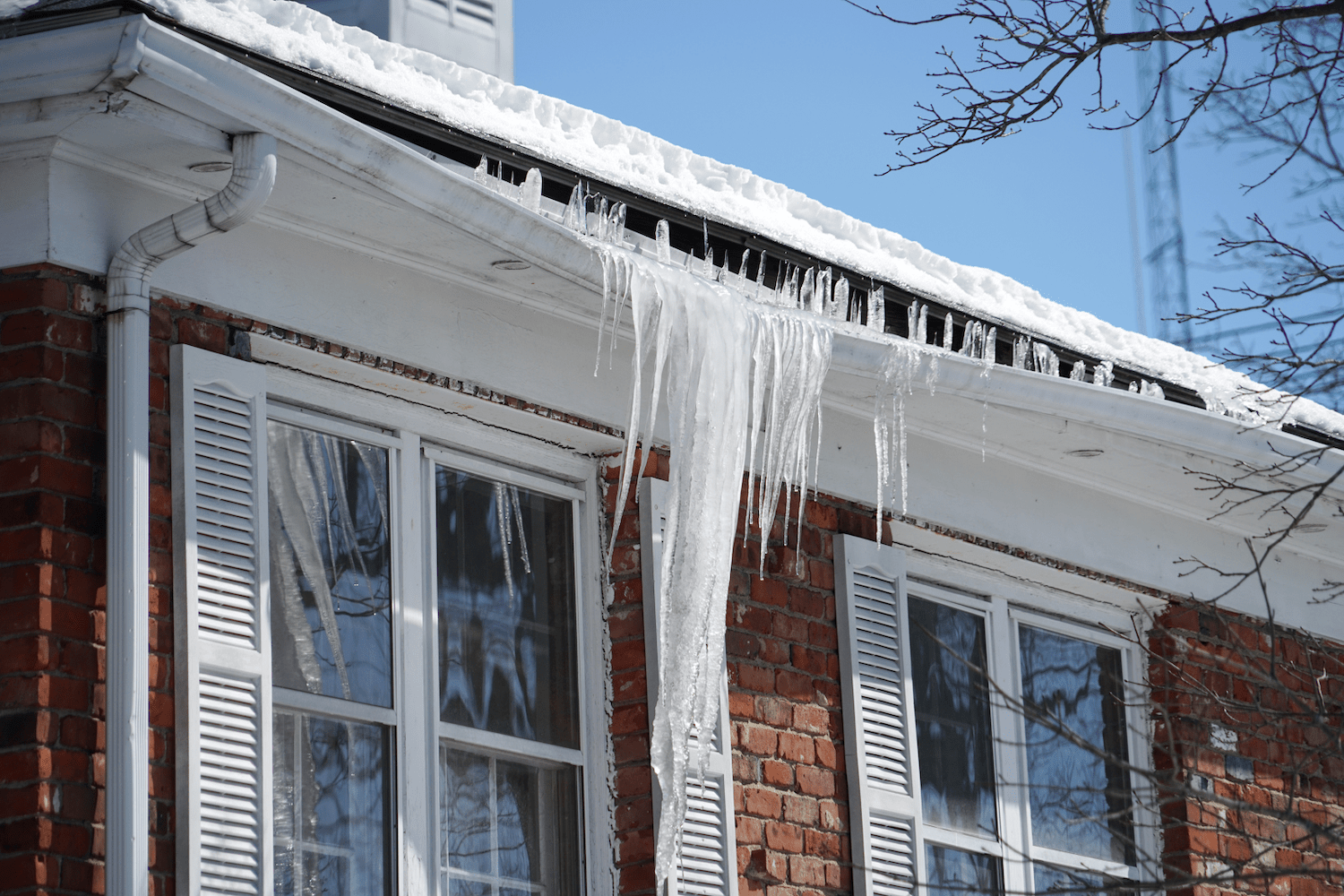 Ice dams form on the edge of your roof and gutters when your roof suffers from poor insulation. The warm attic air melts the snow on your roof, and then it refreezes. When the warmth from your attic is escaping, it's a good hint that your roof may have some weak spots that can lead to leaks and other problems. If you have an ice dam that keeps forming on the roof edge, it may be time to contact a pro.
How To Prevent Roof Leaks
Looking to stop roof leaks before they start? Here are some tips to help you!
Schedule regular roof repairs
Regularly remove debris from your roof and gutters
Have a yearly roof inspection to stay on top of any problems
Keep an eye out for missing, or blown-off shingles
The Best Way to Find and Stop Roof Leaks
Nervous about the state of your roof? Leave it to a roofing professional! At Johnson Restoration, our team of highly knowledgeable roofers knows exactly how to inspect and test your roof for signs of damage. With our team on your side, you'll stop leaking roofs before they ever start. Contact us today to receive your free estimate!